---
Multi-Axis Mills
Five axis Thermwood mill, 120" x 60" x 24" (X,Y,Z travel) CNC control. Five axis Thermwood mill, 180" x 120" x 36" (X,Y,Z travel) CNC control.
Profiling of unexpanded metallic core to produce contours and tapers; Core is then expanded to a net dimension.
Slotting of core for draining, venting or acoustical purposes. Net trimming, beveling and recessing, producing configurations to customer requirements.
Manufacturing of core blankets to engineering specifications, including potting.
For specific processes beyond our capability we have & will utilize customer approved subcontractors. In all cases, as the prime contractor, we would be responsible for all aspects of the contract.
Bonded Honeycomb Cormats
Monolithic Graphite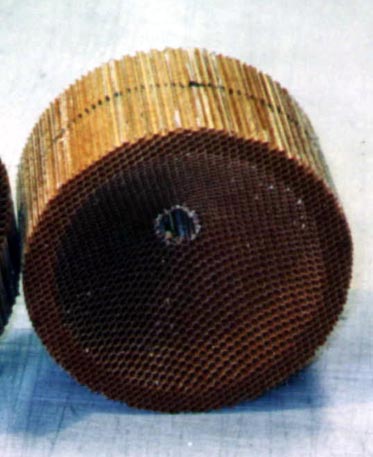 3 and 5 Axis Samples
---

Click here to return to the main page.
---